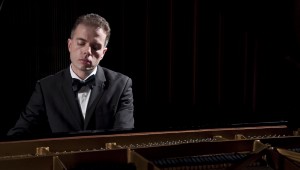 "Djordje Nesic was ideal on piano–it would be an injustice to call his work "accompaniment" since it was so integral to the success of the afternoon. He was exceedingly sensitive to the varying demands of the composers and singers, leaving us hardly aware that the pieces were meant for orchestral accompaniment."
Djordje Stevan Nesic's pianism has been described as artful, assertive, sensitive and quietly virtuosic, and his career highlighted by recital, concerto, chamber, and collaborative performances, both in the US and internationally. He makes an effort to promote music that addresses contemporary, social justice and human rights issues. His upcoming engagements include returns to the Berkshire Opera Festival and Belgrade's Kolarac Hall, where he will present a masterclass and a recital. Recent apearances were held at Carnegie Hall in NYC (Nov and Dec of 2019), Kolarac Hall in Belgrade. In July 2019 he appeared at the internationally acclaimed KotorArt Festival in Montenegro. As of the fall semester of 2021, Djordje has been engaged as the opera coach at the Manhattan School of Music, in NYC. He continues his pedagogical work also at SUNY Purchase. In May-June 2019 he participated in the preparation and performances of the opera Ellen West by Ricky Ian Gordon and Frank Bidart at Opera Saratoga. He repeated this engagement with the Prototype Festival in NYC in January 2020, and the recording of this performance was issued by Bright Shiny Things in the fall of 2020. Djordje traveled to Belgrade in May of 2019 with a group of his students from Carnegie Mellon University, where he presented four concerts, including the staged preimere of the opera Svadba by Ana Sokolovic. The performances were held at Kolarac Hall, National Museum of Belgrade, the SANU Gallery, and the Great Hall of the City Assembly. Other recent engagements include a concert at Carnegie's Weill Hall in celebration of Serbian music, as well as a recital at the Serbian Cultural Center in Paris. This season, performances include a recital at the Serbian Academy of Arts and Sciences in Belgrade, festival appearances at Opera Saratoga, Berkshire Opera Festival, and Great Waters Music festival in New Hampshire. In 2018, the Bridge Records issued the Opera Saratoga recording of Marc Blitzstein's The Cradle Will Rock, on which Djordje performed. Recent engagements include a masterclass at the Hartt School of the University of Hartford; appearances in recital at NJ State theater; at Caixa Cultural in Brasilia, for a concert of Brasilian and Serbian music; contract as a guest pianist for Pittsburgh Opera for a new production of The Long Walk, an opera Djordje has been working on since its inception in NYC workshops and premiere at Opera Saratoga; several appearances on concert stages with Audra McDonald,  (including the PEN Gala), performing as the piano collaborator for the annual Joyce DiDonato Carnegie Hall masterclasses, the Marian Anderson Awards Gala at the Kimmel Center in Philadelphia, the annual recital for the George London Foundation and the Lincoln Center Great Performers Circle with mezzo Isabel Leonard, teaching residency in Zagreb, Croatia, a gala concert for the 84th anniversary of Belgrade's Kolarac Hall, and recitals for the Metropolitan Opera Guild.
Djordje is currently teaching at the Manhattan School of Music and the SUNY Purchase Conservatory of Music, after a three year residency as full time Special Faculty for Vocal Coaching and Accompanying at the College of Fine Arts of the Carnegie Mellon University, where he now appears as a visiting artist. Among the pianist's recent Manhattan performances are those at Lincoln Center in its "Meet the Artist" and "Great Performers Circle" series; Carnegie's Weill and Zankel halls; Merkin Hall; the United Nations General Assembly Hall; the River to River Festival; Tribeca's Ico Gallery; the Trinity Church Wall Street. He regularly serves on the faculty for the Opera America Career Blueprints for singers program. Mr Nesic performed in the New Works Sampler at the Opera America Conference in San Francisco, and visited the National Theater in Belgrade, Serbia, as a lecturer and masterclass technician. During recent seasons, Mr Nesic performed in both concert and recital at the Kennedy Center in Washington, DC, live on A Prairie Home Companion with Garrison Keillor, recorded seven newly commissioned American art songs for the Opera America Songbook project, performed in both concert and recital at Greenwich Music Festival's All Things Stravinsky 2012 season; Carnegie Hall in New York City, the Ohana Arts Festival in Honolulu, Cincinnati's Taft Museum and the Underground Railroad Museum Freedom Center, as well as at the University of Wisconsin and the Next Act Theater in Milwaukee. He was also featured in the PBS broadcast of "This Little Light of Mine" with soprano Adrienne Danrich, which was awarded a midwest Emmy Award in 2011. 
Other recent seasons included appearances at University of Richmond; the Mann Performing Arts Center in Philadelphia; the Ravinia Festival's Rising Star series; the "Sing for Hope Gala" presented at Lincoln Center; Greenwich Music Festival to prepare and perform the critically acclaimed production of Poulenc's La Voix Humaine, later reprised at the Ohana Arts Festival in Honolulu, Hawaii.

In his capacity as an accomplished vocal coach, Djordje Nesic spent the summers 2018-2020 at the Berkshire Opera Festival, 2015-19 at Opera Saratoga, 2013-14 preparing and performing ALT workshops of new works, and in 2012 preparing Stravinsky's A Soldier's Tale at the Greenwich Music Festival, and Janacek's Jenufa at the Bohemian National Hall in New York City. During Greenwich Music Festival's 2009-2010 season, Mr. Nesic served as vocal coach and performed as pianist for Viktor Ullmann's Der Kaiser von Atlantis. A film version of this production premiered at the 2010 Westchester Jewish Film Festival. That same season, he prepared and performed the operas Dinner and Delusion by Michael Sahl and Nancy Manocherian and Clarence and Anita by Benjamin Yarmolinsky at the Cell Theater in New York in collaboration with the Center for Contemporary Opera. He spent summers of 2003-2007 at Glimmerglass Opera, 2000-2002 at the Aspen Opera Theater Center, and 1998-1999 at the Tanglewood Festival.
Mr. Nesic appeared with soprano Hanan Alattar at Carnegie Hall in a recital sponsored by the Marilyn Horne Foundation, and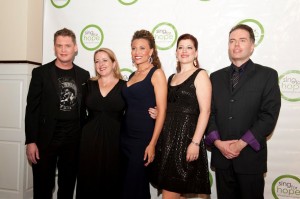 performed with soprano Monica Yunus at an honorary event for her father Professor Mohammad Yunus—winner of the 2006 Nobel Peace Prize. The pianist's schedule included participation as a panelist for Opera America's "Who's in Charge of Rehearsal?", and a Professional Workshop at Carnegie Hall with bass-baritone Daniel Gross, under the leadership of the famed German singer Thomas Quasthoff.
Mr. Nesic coached Audra McDonald in preparation for her Houston Grand Opera debut in Michael John La Chiusa's Send (Who are You? I Love You) and Poulenc's The Human Voice.
A Slavic-diction specialist, Djordje Nesic is in high demand as an opera coach, as well as a vocal-recital collaborator. Professional affiliations include those with Carnegie Mellon University, Opera Saratoga, Belgrade's National Theater, Belgrade Faculty of Arts, Kolarac Hall, The Juilliard School, the University of Texas at San Antonio, The University of Wisconsin Milwaukee, the Ash Lawn (Charlottesville, VA) Opera Festival, and California State University, Long Beach. With the Glimmerglass Opera—both in New York City and in the Cooperstown area—Mr. Nesic has been featured in productions sponsored and organized by the company: he has performed as a pianist and served as a panelist in live radio broadcasts from the state of New York's NPR affiliates WAMC (Albany) and WXIX (Rochester). Television appearances have included live broadcasts from Carnegie Hall on medici.tv, multiple appearances in performance and interview on Radio Television Serbia, the "World Food Prize" ceremony, and the city of New York for Japan's FUJI station.
A favorite of festival audiences, Mr. Nesic has performed at the Tanglewood, Cleveland Art Song, Lake Luzerne (NY) Chamber, and Aspen Music Festivals. The list of conductors with whom he has worked features John Mauceri, Christopher Larkin, Julius Rudel, James Conlon, Stewart Robertson, David Angus, Reinhardt DeLeeuw, Gerald Steichen, and Robert Spano.
Djordje Stevan Nesic is a roster member of the Swiss Global Artistic Foundation.